The Growth Paradox

This book is het launchpad for healthy growth in a higher gear!
Entrepreneurship is like sex in the 1950s.
All sorts of things are expected of you, but no one tells you exactly what to do. And you don't want to ask. So you learn as you go. By trial and error. With a rapidly growing business, this happens so often that an entrepreneur gets the impression that he is doing nothing more than scrambling straight. An overloaded schedule that you can't get finished, employees who pull on your sleeve all the time, more and more work while you've hired additional staff, sales and marketing that can't get along, and hardly any time to think about the future and direction of your company.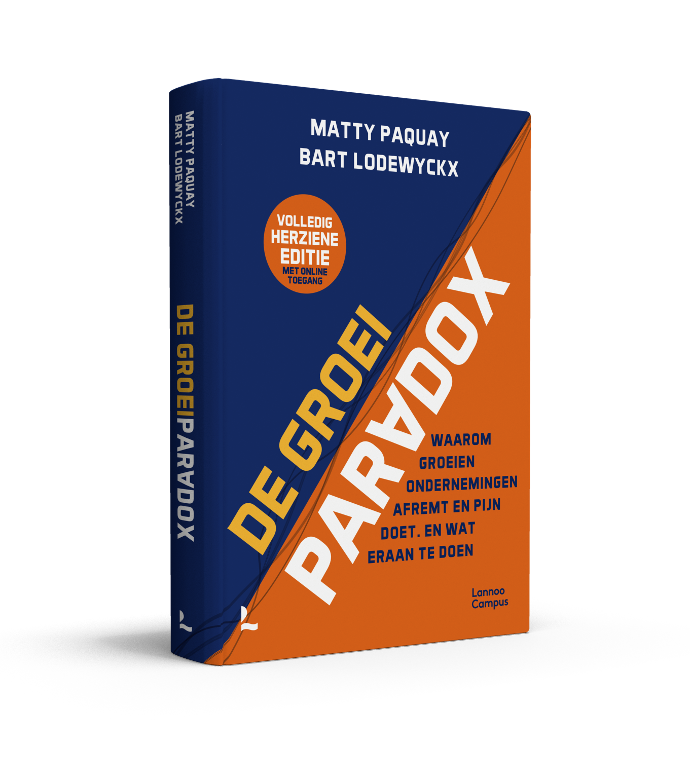 These are just a few symptoms that Bart Lodewyckx experiences again and again in the many growth companies that he visits daily as delegated director of UNIZO. That is why he decided to write this book together with Matty Paquay, adviser to growth companies. Because Matty knows the phenomenon of growing pains like no other. He describes them in his theory: when a company starts to grow strongly, it tends to slow itself down.
However, you can do something about that, and this book will help you do so.
In eleven chapters, Matty explains in clear language what the most common growing pains are and how you can tackle them. Self-evident truths are debunked, myths punctured. This book identifies the problems, explains them and offers solutions. After all, every company has the potential to become a growth company. And to stay one.
Unless an entrepreneur consciously chooses to stop growing at some point, companies that are doing well get bigger. So far, there isn't really a problem. At least, it seems that way.

Because just like a growing adolescent outgrowing his clothes, the organizational model, personnel policies and perhaps other aspects of business operations have also become too small. Only you don't see that at the head of an organization by a long shot. Habituation is the big culprit here. The fact that the problems get bigger very gradually doesn't help either. In the beginning, something hurts a little. But you tolerate it. You get used to it. Gradually the problems get bigger. But always slowly enough to get used to them.

THE BOOK HELPS TO BREAK THOSE HABITS.
The book does this in a special and systematic way:

For 10 major growing pains (one in each chapter), Matty and Bart first analyze the symptoms. What are the common problems? Readers confirm that this first volume is mind-bogglingly recognizable in every chapter. Problems that they thought only their company suffered from turn out to be so common that there is now even a book about them.

The second part looks for the root cause of those symptoms or pains. By nature, everyone tends to fight the pain where actually the cause should be found.

In each third part, Matty gives some approaches and methods from his practical experience to eliminate those causes.
Recognize the symptoms

FOR WHOM IS THIS BOOK FOR?

This book is intended for growth entrepreneurs.
For businesses that are achieving growth, but too often with the handbrake on. Not only does this book show you where the warning lights are that warn of the handbrake being put on, it is also a useful guide to taking off the brake(s).

So is this only for companies looking to grow?
No. Companies that lack the intrinsic power to grow will not achieve growth with this book. In that case, only efficiency goes up.

What others say
about the book
"In every growing organization, growing pains make themselves felt sooner or later. In clear language, The Growth Paradox guides managers and entrepreneurs from growth to fruition. Highly recommended for anyone who wants to face the many challenges of growing as a business."

"With the book in hand, the best advice for entrepreneurs and managers is, 'reculer pour mieux sauter'. Taking a step back for a moment to then jump better."

"By approaching each obstacle from recognizable symptoms, a clear diagnosis and pragmatic solutions, The Growth Paradox forms an inspiring roadmap for the exciting course on which every entrepreneur seeks his way."
Interested?
Join the community and buy the book
Tailored to entrepreneurs
WITH PRACTICAL TIPS AND SOLUTIONS
A book you can get started with.

ALSO FOR THOSE WITH LITTLE TIME
Each chapter reads like a book on its own.

FURTHER FOLLOW-UP POSSIBLE

Practical follow-up courses available.

Start Your Journey to Better Business
---